President Quett Masire (Former President of Botswana) Delivers Speech at ICD House
Reception in Honor of the Former President of Botswana at the ICD House of Arts and Culture
January 21st, 2015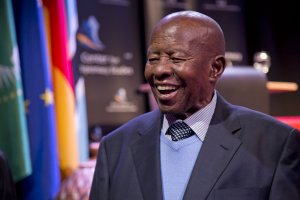 On January 20th, 2015, the Institute for Cultural Diplomacy had the great honor to welcome the Former President of Botswana. Before President Quett Masire took the stage at the ICD House of Arts and Culture, the Ambassador of Botswana, H. E. Amb. Tswelopele C. Moremi gave a speech honouring the former President and concentrating on Botswana's recently launched diplomatic mission to Germany.

President Quett Masire (Former President of Botswana) was Botswana's second President, serving 18 years from 1980-1998. Prior to this, he was a leading figure in the independence movement and then the new government, and played a crucial role in facilitating and protecting Botswana's steady financial growth and development.
In his keynote address, President Quett Masire emphasised the need for interaction and exchange between nations and people – "we are not beasts, we are people and we must all interact". According to him, Botswana's greatest challenge at the moment as a young nation is to develop programmes which empower the country's youth to compete globally. The perfect example for that is the Botswana International University of Science & Technology that was established 10 years ago. The Former President expressed that Botswana needs to be better at promoting its culture and "flag-waving" and that the ICD's cooperation with Botswana is going to help the country with this matter.
President Quett Masire shared his views with the audience about the difficulties that Africa faces with regards to its people. He argued that everything good that Africa produces (young professionals, artists, athletes) is taken by other nations. He gave a great example of the French national football team being made up by mostly African players.
The former President's speech was a perfect fit with the ICD's recent events about empowering Africa's youth and the continent's development in the foreseeable future.
It was a great honor for the Institute for Cultural Diplomacy to welcome President Quett Masire and all our prestigious guests from the diplomatic community to the ICD House of Arts & Culture in Berlin. We look forward to welcoming him to the ICD again.
References and Links
News from Berlin
Berlin Global