News from Berlin
Presentation of the 2015 European Games in Baku - First Lady of Azerbaijan Visits Berlin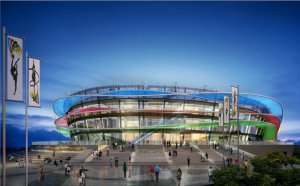 News from Berlin - The presentation of the very first European Games, due to be held in Baku, Azerbaijan, to an audience of important representatives from Germany and Azerbaijan in Berlin. Held at the famous Bode Museum on Monday, October 13th, the European Games was introduced with support from the Azerbaijan Embassy in Berlin.
The event was chaired by Azerbaijanís First Lady, and President of the Heydar Aliyev Foundation, Mehriban Aliyeva and contained contributions from speakers on cultural relations and details of the European Games itself.
Among the speakers were: Minister of Youth and Sport of Azerbaijan Azad Rahimov, Azerbaijanís Ambassador to Germany Parviz Shahbazov, chairperson of the German Bundestagís South Caucasus Friendship Group Karin Strents and President of the German Olympic Committee Alfonse Hermann.
Mr Rahimov spoke of Azerbaijanís growing pedigree in sport, with increased success on the international stage and having successfully hosted a number of high profile international tournaments.
In his speech, Ambassador Shahbazov drew attention to the activities of the Heydar Aliyev Foundation, in particular the contributions made by the Foundation in Germany towards German-Azerbaijani cultural relations. Formed in 2004 in tribute to former President Heydar Aliyev, the Foundation is a charitable organisation that conducts and supports a broad range of activities, including acting as cultural ambassadors for Azerbaijan. Furthermore, it also encompasses domestic activity, for instance the development of health and education standards, social issues, and of course sports.
Also shown at the presentation was a documentary, detailing the preparation for the European Games. The games will be held in Azerbaijanís capital, Baku, in June 2015 and constitutes the very first multi-sport tournament for the continent.
News from Berlin - Berlin Global