Photography Exhibition on Display at Irish Embassy
The Irish Embassy is currently running a photography exhibition showing the works of John Millington Synge running until 11th November 2015.
October 29th, 2015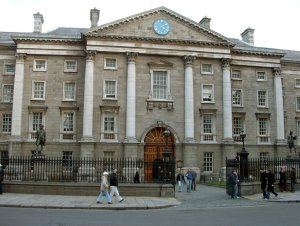 Currently being exhibited at the Irish Embassy are the works of John Millington Synge, taken during his walks and cycling tours in County Wicklow, Ireland. The array of photos on display depict typical country life in rural Wicklow.
Upon entering the exhibition Synge's black and white photographs taken during the late 19th century span across the length of the room. His work captured not only the beautiful rugged terrain of the Irish countryside, but also exhibits a sense of the impoverished lifestyle many Irish citizens lived in at the time, especially those living in the countryside. The exhibition portrays scenes of men and women working the fields with old farming tools alongside portraits of urban dwellers in Dublin. It is believed that the photos are taken on a Klito camera which is a plate changing model manufactured in London.
Synge was born in 1871 in South Dublin, he spent his childhood holidays on the family's estate in Glanmore, Wicklow. It was these summers spent in Wicklow that inspired his later photography projects. He was a talented musician who studied at the Royal Irish Academy of Music and later at Trinity College Dublin where he got a degree in Irish and Hebrew.
Synge's passion lay in music and he left Ireland to go to Germany, more specifically Würzburg. After only a few years though he moved back to Ireland to pursue writing, his second passion in life. He was fascinated by the life of country folk specifically in the West of Ireland and the Wicklow mountains which became his focus in both his writing and photography. This led Synge into the area where he became most well known - play writing. He wrote six plays during his short life, his most famous being The Playboy of the Western World which is still performed even today.
In spite of being an extremely talented playwright and musician, Synge was also a pioneer in the field of photography. On his frequent travels through Ireland he took many photos primarily of rural scenes. His interest lay in capturing the normal daily life routines and working conditions of people living in the most rural areas. His photographs were only displayed for the first time one hundred years after his death firstly in Paris and Dublin. The current exhibition at the Irish Embassy in Berlin is the first time Synge's photos have been on display in Germany.
A trip to the exhibition is highly recommended to provide an insight into life in rural Ireland and the fascinating although short life of John Millington Synge.
References and Links
News from Berlin
Kitty Murnaghan and Timba Robinson, Berlin Global