News from Berlin
Panel Discussion On The French-Speaking African Community In Berlin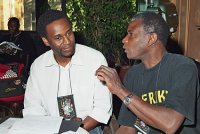 News from Berlin. On March 13, the Afrika-Haus Berlin organises a panel discussion about how the French speaking african community of Berlin is present in the city. The subject will not be limited to culture; presence in the media and business life will be discussed as well. The speakers will be Oumar Diallo, a sociologist and director of the Afrika-Haus, MFA Kera, composer, singer and founder of the band Black Heritage, Nangura Der Deyila Alexis BAKO, cultural détaché of the Burkina Faso Embassy, and Hervé Tscheumeuleu, editor of Lo'Nam magazine. The event starts at 18:00 and is free of charge.
The African community in Berlin has been growing steadily over the past decades. Many came here because of the promising economic climate, but some of them are students, or even refugees that came all the way north. A closer look at how this lively community is integrating in day-to-day life and what it has to offer is bound to be a revelatory experience, and once again proves that Berlin is one of Europe's most important cultural hubs.
This event is part of "la semaine de la francophonie", or the French week, an initiative by the French government that seeks to promote the French language abroad. For more information on this and upcoming events at the Afrika-Haus, go to www.afrikahaus-berlin.de.
Berlin Global
News from Berlin