Oktoberfest 2016 in Berlin
Experiencing and exploring Bavarian culture through the best beer in the world
September 19th, 2016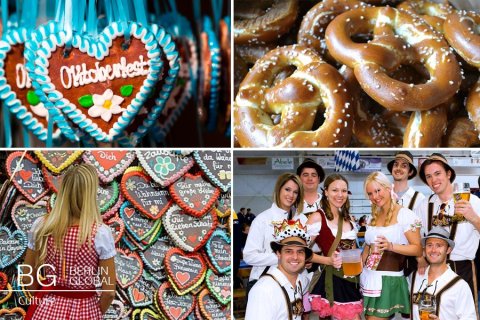 Oktoberfest is both a traditional Bavarian beer festival and the biggest folk festival in the world. It is a part of European culture and in particular central European culture and people from all over the world come to Germany to experience this. During the Oktoberfest visitors to this well-known international festival have the opportunity to mix, mingle and interact with people from different nations and cultures, united in their common love of the "liquid German gold".
Between 23rd September and 16th October 2016 the 66th edition of Oktoberfest will take place in Berlin. The event is organised by the Schaustellerverband Berlin e.V and it will be located on the central fairground of Kurt-Schumacher-Damm (nearby Berlin Tegel Airport), running each week from Wednesday to Sunday.
During the event the visitors will have the opportunity to taste traditional Bavarian beer and specialties, such as roasted ham hock, roast chicken, beef and pork loaf, pretzels and radishes. The programme of the Berlin Oktoberfest will include live music on 25.09, 03.10 and 09.10 2016, in addition to 50 fairground amusements, break dance, auto scooters, lotteries, fairground carousels and multiple food stands.
Oktoberfest was celebrated for the first time on 12th October 1810 in Munich, to celebrate the marriage of Bavaria's Crown Prince Ludwig to Princess Therese Charlotte Luise of Saxony-Hildburghausen. Ludwig would become King Ludwig I of Bavaria, reigning from 1825 to 1848. Munich's citizens were invited to partake in the marriage celebration and the festivities, with horse races, music and dancing. The celebration was held on the expansive meadow in front of the city gates.
Since 1810 the multi-day festival has become an annual event. Nowadays the Oktoberfest begins in September instead of October on account of the milder weather and in general the festival runs for 16 days, but there have been years when it has run longer. If the last day of the festival falls before the Day of German Unity, the festival generally runs through the national holiday.
Oktoberfest is not just a cultural symbol of Germany. It is a cultural experience tied to the tradition of beer in Germany.
Oktoberfest also has specific traditions regarding dress. There is traditional German clothing called "Tracht". During the beer festival men wear Lederhosen (breeches made of leather) and the women wear a Dirndl (traditional dress worn in Austria, South Tyrol and Bavaria).
The Bavarian, and in general the German, tradition of beer production is very old. On 23rd April 2016 Germany celebrated 500 years since the introduction of the Reinheitsgebot (German Beer Purity Law), which guarantees the purity of beer by specifying its ingredients.
References:
News from Berlin