New Philippine Ambassador Joins Independence Day events in Stuttgart
Celebrating the 121st Anniversary of the Proclamation of Philippine Independence in Germany
June 18th, 2019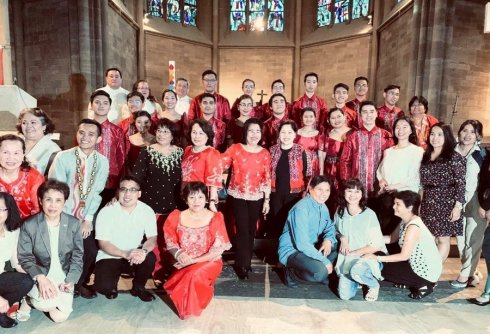 New Philippine Ambassador Theresa Dizon-De Vega joined two events marking the 121st Anniversary of the Proclamation of Philippine Independence in Stuttgart on 12 and 13 June 2019.
H.E. Ambassador Dizon-De Vega delivered an Independence Day message at the Reception for Stuttgart local officials, Business Community, Filipino Community members, members of the Consular Corps organized by the Philippine Honorary Consulate in Stuttgart headed by Honorary Consul Dr. Axel Neumahr.
In her message, Ambassador Dizon-De Vega encouraged more dynamic engagement between the Philippines and Germany particularly in the economic field. She likewise stated, paraphrasing national hero Dr.Jose P.Rizal that "Germany will always occupy a special place in the pages of our history by providing a welcoming haven for Dr. Rizal during the creation of many of his most enduring works."
Philippine Consul General in Frankfurt Evelyn Austria-Garcia, Deputy Consul General Emil Fernandez, and Tourism Representative Margarita Valdes also graced the occasion.
The following day, Ambassador Dizon-De Vega delivered a message and joined members of the Filipino Community of Stuttgart and nearby cities at a Special Independence Day Mass presided over by Filipino Chaplain Fr. Jonathan Galope Ramoso. The activity was jointly organized by the Honorary Consulate in Stuttgart represented by Consular Assistant Rhoda Steegmaer on behalf of Dr. Neumahr, the Philippinische Muttersprache Gemeinschaft (PGM), and the Philippine American German Association in Stuttgart (PAGASA).
The event was capped by a special performance by the award-winning Filipino Choral Group IMUSICAPELLA who won the hearts of the Filipino- German audience with a Philippine, German, and pop repertoire.
References
News from Berlin