Music Festival, a Way to Spread Culture
The Gendarmenmarkt square in the heart of Berlin is transformed into a concert stage
July 10th, 2018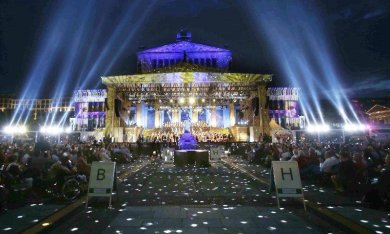 For a few days every summer, the Gendarmenmarkt square in the heart of Berlin is transformed into a concert stage.
The Classic Open Air festival is staged on one of the most beautiful squares in Europe, the Gendarmenmarkt. The surrounding buildings- Konzerthaus, Deutscher and Französcher Dom - offer a stunning backdrop for various musical performances under the night sky.
In 1992, the fantastic concert of star tenor José Carreras launched the Classic Open Air festival on one of the most beautiful squares in Germany, the Gendarmenmarkt square.
For five evenings, at the beginning of each month of July, the masterpieces of popular classical and modern music resonate under the stars in a prestigious architectural setting consisting of the Konzerthaus by architect Karl Friedrich Schinkel as a backdrop and the French and German cathedrals on each side of the square. Games of light and lasers complete the concerts, featuring the historic architectural triptych of the Gendarmenmarkt.
Musical performances at the Classic Open Air festival include classical music in the traditional sense, but also rock, pop and jazz music played on violins, cellos and other classical instruments. German and Italian Opera, operetta and musical productions are also part of the programme. Some of the concerts include a light show or fireworks.
The concerts of classical and modern music given on the square are aimed at a wide audience. The program of the festival "Classic Open Air" offers concerts "stars" of classical music, but also concerts events and even transversal works, where intervene musics pop, rock or jazz.
The Classic Open Air festival has, in previous editions, hosted prestigious artists such as José Carreras, Montserrat Caballé, Roberto Alagna, José Cura, Marcelo Alvarez, Anna Maria Kaufmann, Thomas Quasthoff, Lucia Aliberti and Buena Vista Social Club. Chaka Khan, Al Jarreau, Chris de Burgh, die Scorpions, Xavier Naidoo & die Söhne Mannheims, Roger Cicero, Udo Jürgens, Till Brönner, Paul Kuhn, Annett Louisan, Curtis Stigers, etc.
The Classic Open Air festival was distinguished in 2006 by the "LEA - Live Entertainment Award 2005" for the quality of its artistic programming and its services.
References:
News from Berlin