Members of the Russian Embassy in Germany Meet with Forum Participants
"Trilateral Forum – Germany, Russia, Ukraine: a common future?"
December 17th, 2014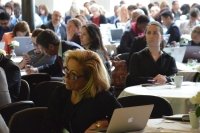 Participants in the "Trilateral Forum – Germany, Russia, Ukraine: a common future?" have met with members of the Russian officials at the Russian Embassy to Germany in Berlin.
The trilateral forum ran from December 8th until the 12th, 2014. Participants were young people from Germany, Russia and Ukraine. The forum was held under the auspices of the Alumni Association of the German-Russian Youth Parliament Association in Berlin. Forum participants were treated to a visit to the Russian Embassy on December 11th, 2014.
During a tour around the Russian Embassy's reception rooms, forum participants were told about the history of the Russian diplomatic mission to Germany. Forum participants were then had a meeting with representatives of the Russian Embassy in the Concert Hall.
Forum participants were particularly interest in the current state of Russian-German Relations. Questions were directed to the Russian embassy representatives about how the Ukraine crisis has affected relations between Germany and Russia. Numerous questions were also asked about the importance of and how to expand cooperation in the pan-European and transatlantic context. Measures in preparation for the celebration of the 70th anniversary of the Victory in the Great Patriotic War were also discussed.
Attendees said the interview was conducted in a warm and friendly atmosphere. It was a great opportunity for forum participants to get a Russian perspective on certain issues and foster relations between Germany, Russia and the Ukraine.
References and Links
News from Berlin
Berlin Global