News from Berlin
Madame Zik presents Songwriters & Performance - Villa Neukölln Berlin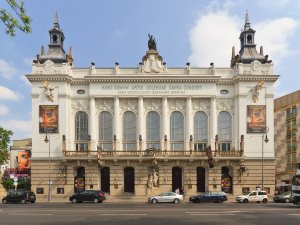 News from Berlin - Once a month, the French organisation Madame Zik's perform with a variety of artists in Berlin. The first performance starts tomorrow, October the 24th and will take place in Villa Neukolln, near Hermannplatz.
Madame Zik's artists play and juggle with the French and German languages. Their musical world evokes French music "la chanson française". Their work is a mix between what they have inherited from the greatest singers and poets and their own innovative inspirations.
Tomorow in the early evening, the performance will start with Berlin à contre-courant, a web documentary called "Berlin against the current / Berlin gegen den Strom" . In the presence of filmmakers Audrey and Catherine Parmentier Ricoul and the personalities in the film. At 21:00 Helena Kolb, a Russian and German soprano reveals an infinite repertoire, mixing classical and popular training. Melancholy, energetic and unpredictable.
The event will be ending with a final performance at 22:30h. Mélinée French singer inspired by Berlin, rides a nostalgic romance to a humanist pamphlet served by abundant and rhythmic writing, a rebel humility. This is an original art project for French music and the performance industry promoted by the Intitut Français in Berlin.
For further information you can access Madame Zick's website at:http://www.madame-zik.com/
News from Berlin – Berlin Global