Permanent Secretary of Botswana Visits Berlin
The Permanent Secretary of the Botswana Ministry of Foreign Affairs and International Cooperation Visited the Embassy for the First Time
August 10th, 2015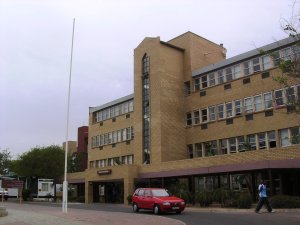 The Permanent Secretary of the Botswana Ministry of Foreign affairs and International Cooperation, Ambassador Lapologang C. Lekoa, visited the Embassy of Botswana in Berlin. This is the first time that the Permanent Secretary has visited the embassy since it's opening in 2013.
The purpose of the visit was for the Permanent Secretary to familiarize himself with the embassy, to discuss the Mission's core Mandate as well as operational issues.
During his visit the Permanent Secretary addressed the Staff at the Embassy outlining key priorities for the Government of Botswana regarding investment promotion, marketing of Botswana products, tourism promotion and the role of the Embassy in assisting the government to realize its priorities. The Ambassador briefed the Permanent Secretary on the progress made in consolidating the establishment of the Embassy, the operational challenges and the measures taken to address them.
The Permanent Secretary was able to appreciate first-hand the challenges facing this new Embassy, while the Embassy expressed its appreciation with respect to this initiative by the Permanent Secretary.
Ambassador Lekoa has been Permanent Secretary of the Ministry of Foreign Affairs and International Cooperation since January 2011. He is the Chief Executive Officer and therefore the overall Accounting Officer for the Ministry. He is also the chief advisor to the Minister and the Government with regards to the Ministry's mandate and he oversees the overall implementation of the Ministry Strategy that covers matters of Corporate Services and International Relations.
Ambassador Lekoa joined the ministry in 1977 as Third Secretary and progressed through the years, serving in different capacities in Missions abroad including Belgium ad the United Kingdom. He has been Botswana's Ambassador to Zambia, Tanzania, Kenya and Uganda from 1996 to 2002. He then served as Ambassador to the United States of America form 2002 to 2010 before taking up his current post in 2011.
References and Links
News from Berlin
Rhys Millin, Berlin Global