Katharine Mehrling continues the Legacy of Edith Piaf
Katharine's beloved Berliner audience enjoys spring nights with love, loss and sorrow
May 18th, 2017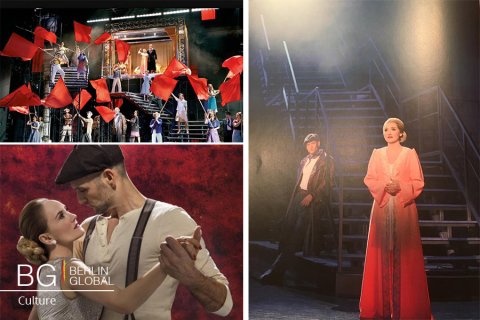 Katharine Mehrling is a well-known German singer, actress, song writer as well as a performer with constant presence on the artistic stage with many famous roles in her career such as Eva Peron in "Evita" and Fanny Brice in "Funny Girl". Her main musical influences as she has stated, are Edith Piaf and her mother, which was also a singer.
Her captivating powerful voice reflects the glorious time of jazz and ballads back in the 50s and 60s in 3 different languages English, French and German, accompanied by a jazz band. The biggest part of her performance was dedicated to Edith Piaf and Aznavour. Amongst other famous songs, the ones that truly spread the magic were La boheme (Aznavour), Sous le ciel de Paris (Yves Montand), Wien stadt meiner Träume and Goodnight (Paul Abraham).
Her show includes references and also brief stories with comic elements of the great artists who have inspired her, like Chavela Vargas.  She is very interactive with the audience, teasing them and urging them to participate in every possible way like trying to sing along a tune. Spontaneous, authentic, self-ironic and friendly, she creates a joyful atmosphere while she entertains her audience and through those performances she narrates her own story.
If you want to be part of this special event "Mehrling au Bar", you can buy your tickets (12,50 - 40 Euros) and spend an unforgettable night in the "Bar jeder vernunft". It takes place daily this week until Sunday. Prepare yourselves for an evening where fun and melancholy are interconnected and the songs of the past become one with the present.
News from Berlin