KATHAK & BOLLYWOOD
Kathak dance show & live Bollywood by Ragini Makkhar & Naadyog group
August 03rd, 2017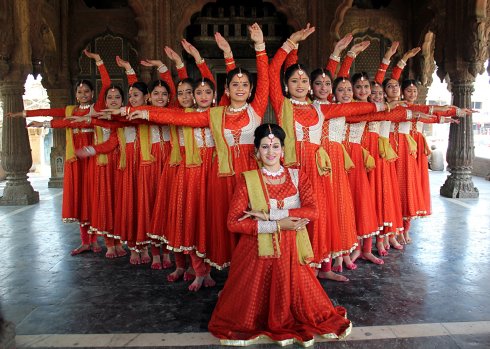 On 26th of July the Embassy of India in Berlin hosted an event which constituted of a blend of Kathak dance and live Bollywood songs, accompanied by a grand finale of both live music and dance.
Kathak is a very popular form of classical dance, which originated from North India. It is partially a narrative dance form that is portrayed by footwork ('tatkar'), spins ('chakkar') and the innovative use of feelings ('bhav'). Its current form has been influenced by numerous mythological narratives, temple dances, the bhakti movement (theistic devotional trends that emerged in medieval Hinduism and later revolutionized in Sikhism), Persian dance and Mughal (empire) courts.
Ragini Makkhar, a very talented artist, conquers a fundamental role in fostering the majestic dance culture of India. Ragini is gifted with a creative mind and a pervasive volition for the complexity of Kathak and this contributed greatly in keeping the extraordinary Indian dance culture in the forefront, as a true 'Sadhana' ("a means of accomplishing something", which is an ego-transcending spiritual practice). Ragini was initiated in the art of Kathak at the age of 5, as an alumnus of Lucknow Gharana, one of the main social organizations linking musicians or dancers, where she was under the guidance of the world- renowned Kathak exponent Smt. Sitara Devi. Afterwards, she was trained by Smt. Poonam Vyas in Mumbai and received guidance from Dr. Suchitra Harmalkar and Smt. Sudha Singh.
Ragini's passion led her to set up Naadyog, an Institution of dance & Music, which is also managed by Mr. Hemant Makkhar. Naadyog's vision is to confer classical dance to young people to maintain the philosophy of preserving the classical dance through different projects and programs.
Ragini is perpetually exploring new horizons in order to enhance Kathak with innovative ideas, without undermining its traditional character. She is the embodiment of veracity, hard work and dedication to her tradition.
This event constituted a priceless chance for a multicultural collaboration. The fact that a European audience was willing to come closer to Indian dance culture and to investigate its character is an undeniable proof that Cultural Diplomacy stands victoriously in the spotlight.