Japanese Sake Festival- Sake Master
For two days, Kreuzberg, Berlin will transform into the venue for Japanese Sake Festival
February 18th, 2019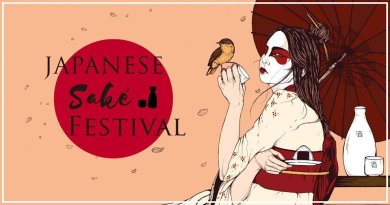 This winter, the city of Berlin will host a Japanese Sake Festival, where visitors will be able to taste more than 15 different Japanese Sake types. The Festival is a perfect place for Sake lovers to immerse into the Japanese culture and learn more about this famous alcoholic beverage.
Sake festivals are held in every part of Japan, and at each one, you have the opportunity to sample many varieties of sake. And the best way to learn about sake is through actual tasting experiences.
For those who have never tried sake before, it is basically a Japanese rice wine made from fermented rice, removing the bran, with a brewing process more similar to beer than actual wine.
It has a distinct taste because the sake rice that is used to make it, is not the same as the rice that the Japanese eat. Sake takes nine to twelve months to mature, and what makes it most unique is its relatively high alcohol percentage of 18-20% as opposed to beer which is between 3-9%.
During the Festival different sake types will be served at 4 stands, 5 Food stand with many traditional food and 10 handcraft and art stands. Next to the performances, the workshops and a free Karaoke Party in addition will be included into the program.
References:
News from Berlin