Japanese Embassy to Host Anime Screening and Go Event
An Anime Screening and a Special Go Event Will Be Held at Japanese Embassy's Premises
October 08th, 2015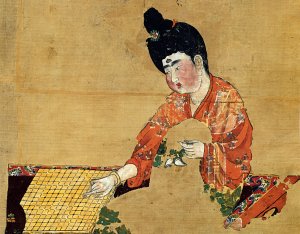 Ranking number one in Europe with a total of 50 thousand players Germany has been hosting since 2006, in partnership with Go -Verband Berlin, the Ambassador Cup in Go. This year the tournament will take place on the 17th and 18th of October. As a prequel to the tournament the Japanese Embassy in Berlin will host on October 16th a special Go event at its premises.
Go is a strategic board game originating in China and largely played in Eastern Asia for more than two millennia. Go is played on a 19 by 19 fields board, by two players using black and white stones. The game is a strategic one, the aim being for one player to win the largest possible area on the board. Go was introduced in Japan in the 8th century BC and was played by the imperial family and the nobles at the imperial court. Later on Go was spread among the samurai and the common citizens. Samurais were using the game of Go to simulate real-life combat strategies. Statistics from the past years are indicating that worldwide there is community of 38 million Go players, with only 5 million from Japan.
The special Go event hosted by the Japanese Embassy will feature an anime screening and a special presentation about the game of Go. The first part of the event consists of the screening of the first two episodes of the anime series "Hikaru No Go". The series was created after the bestselling manga with the same name and will be screened for the first time in Germany. The second part of the event will feature an introductory presentation about the game of Go held by experienced players from Go-Verband Berlin. After the presentation participants will be given the opportunity to play a Go game themselves.
The event will take place at the Japanese Embassy premises in Berlin, on October 16th 2015, starting at 18:00.
References and Links
News from Berlin
Sonia Diana Dordea, Berlin Global