Japanese Embassy Announces Public Speaking Competition
In an aim to promote the teaching of Japanese in German universities, the Japanese Embassy in Berlin is organizing a nationwide public speaking event
March 13th, 2015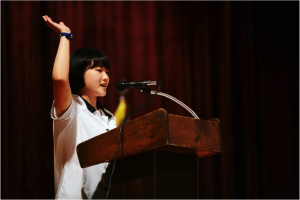 In cooperation with the Japan-Germany Centre of Berlin (Japanisch-Deutschen Zentrum Berlin), the Japanese Cultural Institute in Köln (Japanishcen Kulturinstitut Köln), Big-S International (and NGO) and the Society for the Promotion of Japanese-German exchange, the Japanese Embassy has announced a competition to encourage German students who are in their first year of learning Japanese to demonstrate and improve their lingistic abilities.
The competition is open to any students who are learning Japanese at a German university, students of a minimum age of 20, and students who are currently living and studying in German. Needless to say, students whose first language is Japanese are not allowed to compete. The competition is divided into two ability groups – those who have been learning Japanese for 0-90 days, and those who have been learning Japanese for 91 days-12 months. Applicants are asked to write an application text in Japanese with one of the following titles, 1) 'Japan and I' or 2) 'My suggestions for strengthening Japanese-German relations'. Applicants will be informed of their success by April 22nd 2015.
This is one of a series of projects by the Japanese embassy in Berlin which aims to promote Japan, its language and its amongst German citizens. The winner of the competition will be awarded with return plane tickets to Japan in a bit to further engage the excelling student with experiences that enable their progress.
More information can be obtained from the Embassy, by email info@bo.mofa.go.jp or telephone 030-21094-9
References and Links
News from Berlin
Berlin Global