| | |
| --- | --- |
| | The Embassy of Italy in Berlin |
The Ambassador
Amb. Armando Varricchio
Armando Varricchio was born in Venice in 1961, and is married with two sons. He is serving the Republic of Italy as Ambassador to Germany since 2021, having served as Italian Ambassador to the United States since March 2, 2016.
He graduated with honors (Laurea con lode) in international relations from the University of Padua and embarked on a diplomatic career in 1986. He was Ambassador to Belgrade and previously Head of the Economic Section of the Embassy in Washington, while as a young diplomat in Budapest he witnessed the dissolution of the Warsaw Pact and the Soviet Union. At the Permanent Representation of Italy to the European Union, as Head of Cabinet of the Minister for European Affairs and as Diplomatic Advisor to the President of the European Commission, Ambassador Varricchio dealt mainly with European and transatlantic issues. As personal representative ("sherpa") to the G7/G8 and G20 summits, he dealt with the most important global issues, especially economic and financial, both at the national and European levels.
History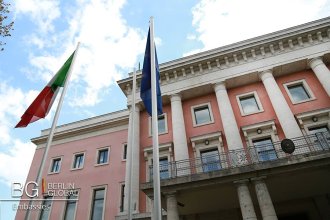 Relations between Germany and Italy were established after the Unification of Italy. The two states historically, enjoy a special relationship since they fought together against the Austrian Empire. Italy and Germany were part of the Triple alliance, however they were enemies during the Great War. Both countries were members of the Axis during World War II and they formed an alliance during the Cold War (West Germany). These countries became two of the G6 nations. In 2005 a German cardinal was elected as Bishop of Rome.
Germany has an embassy in Rome and consulates in Milan and Naples, while Italy has an embassy in Berlin and consulates in Frankfurt, Freiburg, Hamburg, Hanover, Munich, Nuremberg, Saarbrücken and Stuttgart.