IRISH FRIDAY CLUB at the Embassy of Ireland
Inspiring talks and breakfast networking with artists Dee Mulrooney and Richie Heffernan
September 20th, 2018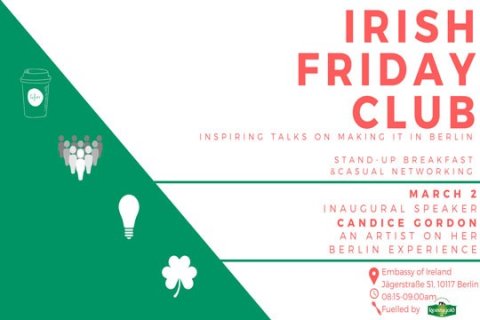 On October 5th, the Embassy of Ireland will welcome guests for the Irish Friday Club. During the event, artist and teacher Dee Mulrooney together with visual and conceptual artist Richie Heffernan will share their thoughts about moving to and working in Berlin and talk about organizing alternative Irish arts festival Crew.
The talk will be preceded by a screening of Dee Mulrooney's short film Driftwood Man. The guests will also have the opportunity to grab a breakfast and engage in casual networking.
Dee Mulrooney is an artist and teacher, who has been teaching art, craft and design for more than 20 years. She moved to Berlin in 2015, where she has re-discovered her own creative impulse. Dee writes stories, paints, performs and makes films.
Richie Hetternan is a visual and conceptual artist, who relocated to Berlin in 2015. He is a national visual art award winner with a degree in film-making and sound design. Since 2010, he has been working as a self-taught craft artist and sculptor.
To RSVP, please visit:
https://dfa.sensorpro.net/s//Run/SRx.aspx?SurveyId=53fc1131-5038-4511-a4ce-0c0762eaa9ff&PageId=b835993b-b6ba-4ab1-be71-8e822c39ff0e&ox=dfaberlin&CID=d797c324-5f4c-4c8e-8986-d4e2525dd10a
References:
News from Berlin