Institut Français Opens Its Doors
Guided tours of Maison de France for The Day of Open Monuments (Tag des Offenen Denkmals)
September 14th, 2022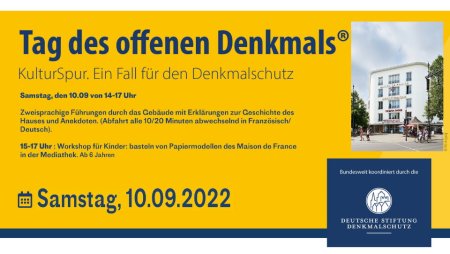 On the 10th of September monuments all around Germany were put into spotlight as the public was invited to learn more about local cultural history. The day in of itself is explored more in detail in another article of ours. In Berlin, we visited the Maison de France, situated on the well-known Ku'damm, where the French consulate provided guided tours in French and German.
In 1950, the Maison de France was opened as a French cultural centre in West Berlin. The aim was to strengthen West-German and French relations, as well as establish an exchange on a cultural and political basis. In fact, the building was one of the first to be restored after the Second World War. Meanwhile, it has little resemblance to the other Wilhelminian buildings in the area, as it was rebuilt into the style of Neue Sachlichkeit. This rich history explains why the house is an important monument of Berlin. It was documented as the 1000th object on the list of monuments by the city.
Sharing the spaces in the Maison de France are the French Consulate's offices, an exhibition hall, their cinema, language school and a grand and colourful library filled with French literature and films for adults as well as children. Here, a workshop also takes place during the open-door day. In the exhibition hall, the photography collective Ostkreuz exhibits their pieces. We learn that the collective was established shortly after a group of East-German photographers travelled to Paris after the fall of the Berlin Wall. After returning to Germany, they united and gathered their pieces that show Paris from an East German perspective.
As we climb the stairs all the way to the fourth floor, we get a great overview of the building and its history. In addition, the guide tells us many anecdotes. For example, there was a terrorist bomb attack in the year 1983, unfortunately killing one person. After this event, the French Consulate moved to a building near Unter den Linden in East-Germany. Considering that the French Embassy was in the West, France was therefore represented in both halves of Berlin. This was very special, as no other Western country had a cultural centre in the East.
Today, the Maison de France is an important French centre in Germany. It has connections to many other institutions, such as the French Embassy and the Centre Français in Wedding. Considering the importance of cultural diplomacy, the Institut Français works to bring France and the French language closer to Francophile Germans and French people living abroad.
References:
News from Berlin