Indo-German Film Week at Babylon Cinema Berlin
The Indo-German Films in collaboration with the Embassy of India, organized the Indo-German Film Week at Babylon Cinema Berlin
August 12th, 2019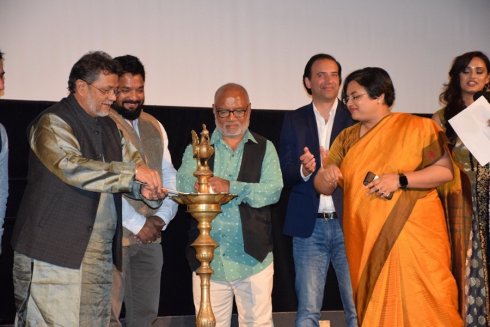 The Indo-German Films festival opened with a gala ceremony attended by H.E. Amb. Gurjit Singh and the Embassy of India at Babylon Cinema Berlin.
Ms. Paramita Tripathi, Deputy Chief of Mission inaugurated the Film Week - the biggest Indian film festival in Germany, with films screening in their original language with English or German subtitles.
The cultural diplomacy between Germany and India within the Film & Television industries has been long-founded. The festival was organized by Stephan Ottenbruch, TV producer of 44 episodes of "Kookaburra – Der Comedy Club". Ottenbruch has collaborated with Bollywood for a few notable German-Indian cinema projects since he first visited Mumbai and has ever since been fascinated by the film city.
He then went on to establish  the Indo-German Initiative in 2011 and then the Indo-German Film Week in 2013 and is since then curating the weekly Indo-German Film dinner at yearly Indo-German Film week at Babylon as well as consulting several Initiatives to build bridges in the media business between India and Germany.
At the festival, the film The Last Colour by Vikas Khanna celebrity Chef was screened at the Festival, which won the Audience Award for #BestFeature and was followed by a screening of the highly regarded and expected TE3N starring Amitabh Bachchan and Nawazuddin Siddiqui. And on Saturday at midnight there is a silent film, a German-Indian coproduction called "Shiraz – Das Grabmal einer großen Liebe" which revolves around the creation of the Taj Mahal.
The Berlin based group Zara Vi also performed Bollywood dance on the occasion. Bollywood films as well as films from all the other regions of India were screened during the film week. Workshops on Yoga, Indian classical dances, Bollywood dance and Indian cooking had also been organized during the film week.
References
News from Berlin