Iftar Banquet at the Embassy of the United Arab Emirates in Berlin
Political and religious leaders demonstrated the need for understanding and cooperation between peoples of different faiths
July 08th, 2016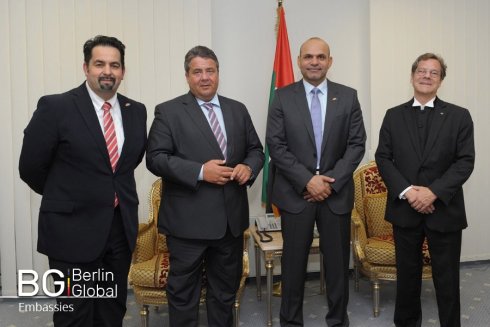 "Religious tolerance and cultural dialogue" was the leading theme at the Iftar Banquet in Berlin. The banquet took place on the 22nd June 2016 and was organized by the Embassy of the United Arab Emirates in cooperation with the Supreme Council for Muslims in Germany.
The Iftar is the evening meal celebration for Muslims when they end their daily Ramadam fast at sunset. Various important public figures from politics, society, culture and media were invited. Among those in attendance were Sigmar Gabriel, Vice Chancellor and Minister for Economic Affairs and Energy and Markus Dröge, the Bishop of the Evangelical Church. The event demonstrated the importance for cultural and religious interaction and exchange based on understanding and co-existence.
H. E. Amb. Ali Abdullah Al Ahmed was delighted with the attendance of approximately 100 guests and took the chance to highlight that the government of the United Arab Emirates is particularly interested in cultural and diplomatic exchange and aims to fight discrimination and to spread tolerance in the society of the UAE. In addition, Aiman Mazyek, Chairman of the Supreme Council in Germany, stressed that a unified stand against anti-Semitism and Islamophobia is of high interest.
Bishop Markus Dröge emphasized that joint activities between Muslims and Christians must have high priority in order to pursue mutual understanding. Minister Sigmar Gabrial further highlighted how the importance of Islam has been recognized as a significant element of German society.
Dialogue is of course the most important tool which must be used to achieve the peaceful co-existence and religious tolerance which these leaders are seeking. This event has opened up avenues for further discussion and interaction.
Reference:
News from Berlin
Mareike Becker, Berlin Global