News from Berlin
The 17th Berlin Dragonboat City Cup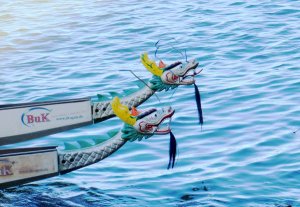 News from Berlin - As cities around the world begin to light up in bright colours and sunny weather, the Hong Kong Economic and Trade Office, Berlin (HKETO Berlin) and the Hong Kong Tourism Board (HKTB) will join in Berlin's summer festivities by sponsoring the 17th Berlin Dragonboat City Cup (5-6 July) in Berlin Grünau.
Featuring up to one hundred teams from all over Germany, the 17th Berlin Dragonboat City Cup, will be Berlin's largest aquatics event. The event's roots lie in the annual dragonboat races that take place in China as part of Duanwujie (Dragon Boat Festival) celebrations.
The Dragon Boat Festival occurs on the fifth day of the fifth Chinese Lunar month, usually around June of the Gregorian Calendar. The festival commemorates the death of the poet and minister Qu Yuan. Accused of treason and banished from his state, Qu Yuan threw himself into the Miluo river in despair upon discovering that the city he called home had been captured by a rival state. Locals and villagers who had come to admire Qu Yuan took their boats to the river in efforts to save the poet. When it became clear that Qu Yuan had sunken to the bottom of the river, body nowhere to be found, the villagers instead dropped balls of sticky rice into the river so that the fish would feed on the rice instead of Qu Yuan's body. Thus forms the story behind the dragon boat racing and zongzi, or sticky rice balls, of the Dragon Boat Festival.
Still one of Hong Kong's most stunning attractions and traditions today, the Hong Kong Economic and Trade Office, Berlin and Hong Kong Tourism Board are happy to be able to help bring dragonboat racing to Berlin again this year.
For more information on the berlin Dragonboat City Cup: www.berlin-citycup.de
For more information on HKETO Berlin's upcoming events: http://www.hketoberlin.gov.hk/en/events_upcoming.htm
News from Berlin – Berlin Global