Happy Birthday to the founder of Sport Diplomacy in Zambia
Zambia Embassy honored Kalusha Bwalya for his 56th birthday
August 16th, 2019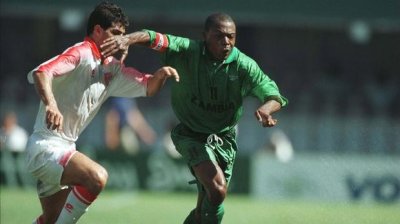 Zambia Embassy celebrated Kalusha Bwalya's birthday trough a post on facebook page, he turns 56 the 16th of August. The Embassy post honored his value as athlet and sport diplomat.
On August 16 is celebrated the birthday of the footballer and great sportsman Kalusha Bwalya, also called the Great Kalu, his figure is important not only for the sporting role but also for the role of sports diplomat who had in his country.
In fact, Bwalya has the merit of having brought the national football team to the African Championship in 2012 and to draw attention to the problems of his country.
The sportsman is called the Great Kalu for his achievements in the sport, he has been named African Footballer of the Year and has been nominated for the FIFA World Player of the Year award.
References:
News from Berlin