Glimpse into A World Faraway
The Philippine Embassy is showing a Filipino movie based on a local legend about an indigenous princess
May 14th, 2019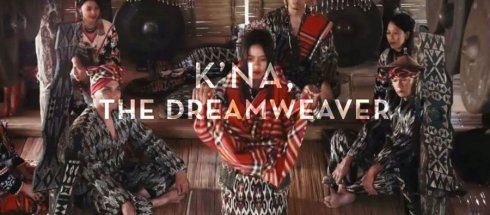 K'na, the Dreamweaver is a 2014 Filipino film with dialogue in the T'boli language of South Cotabato in the Philippines. The movie's themes include questions of bravery, true love and the real characteristics of a princess.
The story relates episodes of the maturation of a T'boli princess called K'na. As a young girl she learns the art of weaving intricate designs from her grandmother and is then chosen as the dream weaver of her village, who translates dreams into patterns of fiber. This is important as the clans of the village K'na lives in are split but could be united by their reverence of a sacred cloth called t'nalak.
Over the course of the movie, K'na grows to understand the meaning of duty and placing family and the welfare of her people above personal desire. She reaches maturity, motherhood, peace, and acceptance.
The biggest importance of the movie lays in the international exposure of a small part of civilization and language and the preservation of T'boli cultures and customs on film. Supported by native speakers in small roles, it puts the local legend on a global screen.
The T'boli are one of the 87 indigenous groups in the Philippines which make up 15 percent of the population. This movie is therefore a testament of the multicultural population of the country and by showing the movie to people in Berlin, it can shape awareness and gather support for the importance of preserving indigenous groups' traditions as well as intercultural relationships within and across nation borders.
The movie will be shown on Thursday, May 23rd at 6:30pm at the Philippine Embassy (Luisenstrasse 16, 10117 Berlin Mitte). Admission is free, but registration is required as there are a limited number of seats available. The link to the registration document can be found on the Facebook page of the Philippine embassy.
References
News from Berlin