Gigi Moto Will Be Performing in Allensbach
The Swiss Singer's Performance, Supported by the Swiss Consulate in Stuttgart, Will Take Place at the Seegarten
August 12th, 2015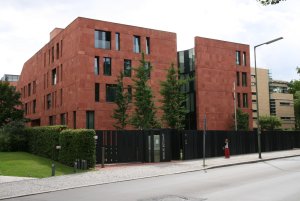 On August 13th Gigi Moto will be performing for free at the Seegarten in the Southern-German Municipality of Allensbach. She has performed many times previously in Allensbach and will be returning this time with the accompaniment of her band. The event is being supported by the Swiss Consulate in Stuttgart.
Gigi's powerful, soulful voice will be complimented by the guitarist, Jean-Pierre of Roof, and the intense rhythms of bassist, Sumi. They have now come together to create a blend of atmospheric and violent songs that are a perfectly orchestrated blend of pop, folk, soul and rock music.
Gigi Moto was founded as a three-piece band named after the band's lead singer but has now developed to include other band members bringing to total to 5 members. However the band can perform live either as a trio, as is the case here, or as a quintet. The band was founded in Zurich in 1993 and has since released a number of albums and performed all around Europe. Their first album was released in 2000 and was followed by albums that were released in 2003, 2005, 2009 and most recently 2014. Two of their albums have managed chart positions in Switzerland, Superstar (2000) that peaked at number 99 and Drive Me Home (2014), which peaked at number 67.
The band has experimented with a number of different line-ups with the more stripped away, three-piece being used to create a more intimate, acoustic sound at smaller venues and following the release of their more acoustic album, Lucy (2009).
The concert promises to thrill audiences with the band's pop-rock fusion sound and the voice of the lead singer, Gigi Moto.
References and Links
News from Berlin
Rhis Millin, Berlin Global