Get Acquainted with the Cultural Traditions of Turkmenistan in Berlin
Turkmen Cultural Heritage Presented in Berlin
June 07th, 2016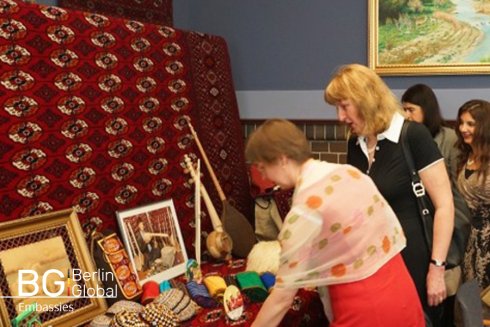 The Embassy of Turkmenistan in Germany, in cooperation with the "Willkommen Berlin" club have at the Ministry of Foreign Affairs of Germany organized an informative presentation. This event is dedicated to the 25th anniversary of Turkmenistan's independence and the announcement of 2016 as the year of honoring the heritage and transformation of Turkmenistan.
The meeting was attended by representatives of the foreign ministry of Germany, members of the "Willkommen Berlin" club, diplomatic missions from the USA, Azerbaijan, Austria, Belgium, Japan, Tunisia, Turkey, Kazakhstan, Kyrgyzstan, Estonia, Ireland, Jordan, Iraq, Kuwait, Lithuania, Libya, Egypt, Mozambique, Romania, Zambia, Sudan, Croatia, Uzbekistan, Djibouti, Hungary, as well as by experts from Turkmen carpets and jewelry, authors of the books and the connoisseurs of Turkmen carpet weaving.
The presentation focuses on the national traditions of carpet weaving which have acclaimed worldwide fame for Turkmen carpets since ancient times. During the meeting the head of the Turkmen diplomatic mission in Germany Toyly Atayev, addressed the guests and spoke about the importance of cultural traditions in the life of modern Turkmenistan. He also outlined purposeful steps made by the government headed by President Gurbanguly Berdimuhamedov to multiply the national cultural heritage.
Furthermore, President of Willkommen Berlin Diplomatic Club under the German Foreign Ministry, Ms. Tone-Korsund-Eichinger, congratulated participants on the true celebration of centuries-old traditions.
Guests received information about the history, Turkmen carpet weaving technique, the importance of patterns, their varieties and also their features. Guests also had the opportunity to closely examine the unique features of national clothes, jewelry, and try dishes of Turkmen cuisine.
Reference:
News from Berlin
Sopiko Reizba, Berlin Global