News from Berlin
Germany Pledges Improved Help for Syrian Refugees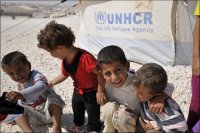 News from Berlin – Last week, German Foreign Minister Steinmeier met Gebran Bassil, Lebanese Minister of Foreign Affairs and Emigrants in Beirut. After initial talks in Berlin at the beginning of May, the two held another meeting to generally strengthen the German-Lebanese relations as well as to discuss the testing situation of Lebanon as Syria's neighboring country. Since Lebanon is one of the main host countries of Syrian refugees, Steinmeier accentuated the importance of international support for instance provided by the World Bank. He claimed the possibility of using trust funds to stabilize the situation in Lebanon and encouraging other states to take refugees in.
During his stay, Steinmeier visited two refugee camps to gain an insight and to meet the head of the UN Refugee Agency in Lebanon. Together with a representative of the German Red Cross, the Foreign Minister handed over several ambulances to the Lebanese Red Cross.
Within the past three years Germany already sponsored approximately 100 million Euros to help refugees and it will provide additional five million Euros to support humanitarian aid and health care of refugees. According to the United Nations, 9.3 billion Syrians need humanitarian aid with another 2.7 million refugees in neighboring countries. More than one million refugees are registered in Lebanon.
News from Berlin – Berlin Global