Germany and Belarus for "Industrie 4.0"
German-Belarusian bilateral plans for industrial development
September 06th, 2019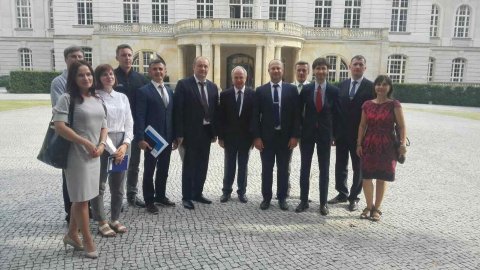 Delegations of Belarusian and German ministries met in Berlin to discuss the digitalization of the economy and to plan strategies in advance for achieving the goals of the German project "Industrie 4.0".
The meeting took place in Berlin, at the German Federal Ministry of Economy, between August 25th to August 31st 2019. Numerous ministers and delegates attended. The event was supported by the program "MOST" of the European Union, as well as by the Embassy of Belarus to Germany.
The Belarusian delegation was led by the Minister of Economy Jury Tschebotar along with the Minister of Health Boris Androsjuk and delegates from the Ministry of Economy and Education and diverse Belarusian business institutions. The meeting was held and led by the co-chief of the German-Belarusian Association for Trade and Investments Dr. Eckhard Franz. The discussion addressed the process of digitization of industrial systems today and in the future, in relation to both countries.
The project "Industrie 4.0" is a German creation and started in 2012. The core idea is to keep the industrial sector up to speed with current technological developments, predicting and preparing a fourth industrial revolution. The drafted plans of action include the implementation of production and manufacturing processing through artificial intelligence systems and thus, brings into question the topic of eventual future digital societies.
The Belarusian delegation was introduced to the plans and strategies developed by the German Industries so far and was taken into consideration for the implementation of bilateral agreements and collaboration plans in this field for the near-future. The delegation was furthermore able to gain insights into the German Smart-Industry and into some of the German leading institutions and research centers for digital engineering and digital start-ups.
Further meetings with Belarusian delegations were also planned to take place in Aachen and Köln, which underlines the willingness to cooperate between the two countries, which have been having solid and stable relations since 1992.
References:
News from Berlin