News from Berlin
Gardens of the World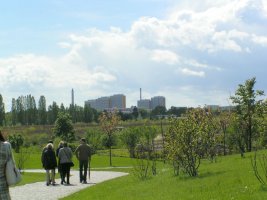 News from Berlin – One of the greenest areas in Berlin is Marzahn-Hellersdorf where 'Gardens of the World'' is located. The themes across the gardens range from traditional Asian, Oriental to European Gardens.
The Marzahn Recreational Park was extended and its inauguration took place in 1987 for Berlin's 750th anniversary during the time when the city was still a divided place. There was an addition to the ''Gardens of the World'' when the ''Garden of the Reclaimed Moon'' was included in 2000. It is Germany's largest Chinese garden and is the symbol of Berlin's reunification. The Moon is also the ancient Chinese symbol for perfect harmony and unity of the entire world.
After a while, there was another addition to the ''Gardens of the World''. Many sections such as the Japanese, the Balinese, the Oriental, Korean and Christian garden were opened as well as the Italian Renaissance garden being added. Visitors that decide to see ''Gardens of the World'' can experience a maze and labyrinth floor as well as Karl-Forster-Perennial garden full of flowering plants which remain colorful all year round.
The ''Gardens of the World'' offers many activities which include perfect garden art, and also serves as the recovery area of green ''lungs'' of Berlin. Visitors can venture around and have many gastronomic visits available such as Chinese style teahouse. Also there is a ''Hall of receptions'' which is another attraction which can also be booked out for events and weddings as well as the stone boat in the Chinese garden which can be rented for wedding ceremonies.
At the moment, there is an English-style garden in progress which is already under construction. ''The Garden of the World'' along with the Wuhle river and the Kienberg will become the venue for the 170-day garden festival.
Many events take place in this place. One of them is Viva la Musica on August 30th, 2014 which for one will be all about classical music. The event will be in an open air setting with orchestras, choirs and soloists performing the works of great Italian composers. The event will turn the place into a green concert hall. Musicians will be seated close to the Italian Renaissance garden where they will perform Italian compositions.
News from Berlin – Berlin Global