News from Berlin
French Quartet Hermès exhibiting in Berlin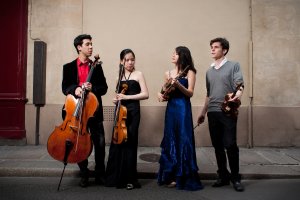 News from Berlin - On April 29th the "Institut Français" in Berlin will host a dialogue concert of the "Quatuor Hermes", organized by KD 211:musique and Club XXI siècle.
The quartet consists of four young French composers: Omer Bouchez and Elise Liu on violins, Yung-Hsin Lou Chang on the viola and Anthony Kondo with his cello. They have already endeared the public in Europe and United States and have achieved the first prize at the Young Concerts Artists Auditions in New York in November 2012. This especially opened the door for concerts not only in Europe, but also in Taiwan, Egypt, Japan and Canada.
The dialogue will be held with Sonia Simmenauer, who has specialized as an Impresaria for string quartets and published a book called "Muss es sein - Leben im Quartet" (Must it be? Life in Quartet) . The theme of the dialogue will be the creation of communication, interaction and harmony within a group of strangers.
After the dialogue they will play the String Quartet C-DUR HOB III:77 by Joseph Haydn and the String Quartet g-moll op.10 by Claude Debussy. It will certainly be a good opportunity for young artists to be given a voice and for people to appreciate their great sense of enthusiasm and charm.
Berlin Global - News from Berlin