Foreign Minister of Armenia met the European Commissioner for Enlargement and Neighborhood Policy
Minister Mnatsakanyan and Commissioner Hahn discussed relevant issues on relations between Armenia and the EU
February 08th, 2019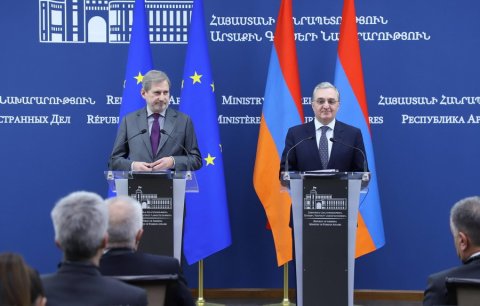 On 29th January 2019 Minister of Foreign Affairs of Armenia met European Commissioner for Enlargement and Neighborhood Policy. Minister Zohrab Mnatsakanyan received Commissioner Johannes Hahn in Yerevan and discussed the recent developments in bilateral relations between Armenia and the EU.
The main topic of the discussion was the Comprehensive and Enhanced Partnership Agreement (CEPA), which is a legal foundation for the bilateral relations. Minister Mnatsakanyan highlighted that the CEPA is of great importance to Armenia, as it will help strengthen the democratic institutions within the country. Both sides agreed on a roadmap for the CEPA implementation and held a joint press conference.
As this year marks the 10-year anniversary of the Eastern Partnership, Minister Mnatsakanyan and Commissioner Hahn agreed that it is a great opportunity to agree on further actions and continue working towards common goals. During the meeting, the sides traded perspectives on various challenges to be addressed, including issues on the circumstances in Syria and ongoing improvements around Iran.
Moreover, Minister Mnatsakanyan briefed the Commissioner Hahn on recent developments in the Nagorno-Karabakh region and described Armenian approach to the peace process in the area. 
References:
News from Berlin