News from Berlin
Feel Festival 2014 – Be Ready for Wave of Music and Colors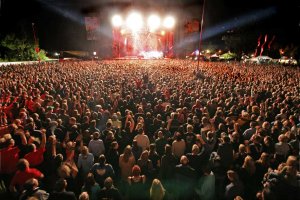 News from Berlin – Feel Festival, near wonderful lake Kiekebusch, is a fiesta of music surrounded by beautiful nature. It is not only feast for ears but also for eyes. The festival boasts many different genres of music, where goers can dance on the beach, swim in the lake and meet people with the same passion and fondness for a nature. It is a combination of music, flora, fauna, light, illusions, different installations, theatre and cinematic performances, all of which create a distinctly unique atmosphere, full of magic and love.
During the weekend 11th to 13th July 2014. Over four stages, dozens of artist will perform to the audience of over 3000 people. Artists at the event include RY X Pupkulies & Rebecca, Clicklickdecker, Herrenmagazin, The/Das Blomqvist, Mat.Joe, Trickski and many many more over a variety of genres such as electro, house, indie, rock and soft hiphop.
Feel Festival, located by Kiekebusch Lake, is about 20 kilometers from Berlin city center. It is possible to get there in by car or by public transportation, but also by Bassliner buses, which are operating especially for this event. During the festival, there will be opportunities to pitch your own tent.
Tickets are selling fast and there are limited available so buy now to avoid disappointment!
News from Berlin – Berlin Global