"Experience Your Europe" – a Placement Opportunity in Germany for Irish Young Animators
The Embassy of Ireland in Berlin welcomes the project "Experience Your Europe"
July 07th, 2016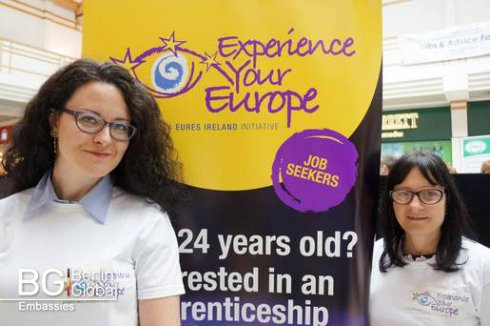 Young animation graduates from Ireland seeking for a job have now the opportunity to prove once more the country high level of education while training in a leading German animation studio.
The Embassy of Ireland in Berlin hosted a roundtable with 8 leading German animation companies and representatives from both the European Employment Services of Ireland (EESI) and the Animation Ireland (AI) to present the "Experience Your Europe" project.
"Experience your Europe" is a co-sponsored placement program implemented by the EESI Department of social protection in cooperation with AI and German animation studios.
Jobseekers will be sponsored by Irish- based companies and placed in a partner company in Germany. This project gives the interns many training opportunities, such as to facilitate their personal development through up-skilling while learning completely new working skills. Moreover, it provides them with the opportunity to acquire additional language skills.
Ireland's predominance in the animation field is indicated by the creativity of Irish people, strongly connected to the country's culture. Irish and German animation studios are already working together on co-productions and this project can be beneficial to both Ireland and Germany. Ireland can benefit through strengthening her ties with the German animation sector, while Germany can utilize Irish graduates' high qualifications.
References:
News from Berlin
Vicky Milioti, Berlin Global