Exhibition about Hungarian Jewish Athletes at Hungarian Embassy in Berlin
Month Long Exhibition in August in Berlin
August 06th, 2015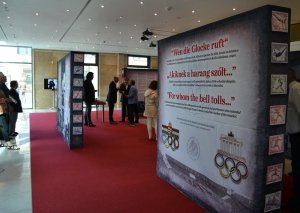 An exhibition about Hungarian-Jewish Athletes is going to take place at the Hungarian Embassy in Berlin from August 1st - 30th, 2015. The exhibition, Entitled "For whom the bell tolls", was inaugurated at the European Maccabi Games and is dedicated to the memory of Hungarian Jewish athletes who won medals in 1936, at the Summer Olympic Games in Berlin.
During the opening ceremony the Chairman of the European Maccabi Confederation, Motti Tichauer, said that Hungary has a good chance to win at the European Maccabi Games in 2019. The Member of the European Parliament Tamás and the Chairman of the Budapest Football ClubTamásDeutsch said that the Hungarian Jews represented the Hungarian nation and Hungary is very proud of them. For them to compete in the Hungarian colors was one of the happiest moment in their life. György Bródy is one of the greatest water polo goalkeeper of all time. His Hungarian Olympic teams won gold medals at the Los Angeles 1932 and Berlin 1936 Olympic Games. Brody was also part of the 1928 Hungarian National Championship Team and played with the national team 74 times during his career. His 1931 and 1934 national teams won the European Championship.
Miklos Sárkány, a member of Hungary's dominant pre–World War II Water Polo National Teams, MiklosSarkany won gold medals at both the 1932 and 1936 Olympic Games. He was also a member of Hungary's European Water Polo Championship teams of 1931, 1934, and 1938.
Kárpáti Károly won a gold medal in 1936 in the Lightweight Freestyle class. He is considered Hungary's first "freestyle" wrestler, winning his first Hungarian National Junior title in 1925. He went on to win ten Hungarian National Championships, as well as European Lightweight wrestling crowns in 1927, 1929, 1930, and 1935. He also won onesilver and two bronze medals in European Championships competitions during the years in between those wins. Endre Kaboswon the Individual gold medal at the 1936 Olympics Games, and Team Sabre gold medals at the 1932 and 1936 Games. He also won an Olympic bronze medal in Individual Sabre in 1932.
The Hungarian team, taking part at the European Maccabi Games in Berlin, is considered to be one of the biggest teams of its kind, amounting to fifty-seven members
References and Links
News from Berlin
Izabella Sipos, Berlin Global