Erines Otorbaev Appointed as Ambassador of Kyrgyzstan to Germany
New Kyrgyz diplomat takes up the post in Berlin.
June 26th, 2015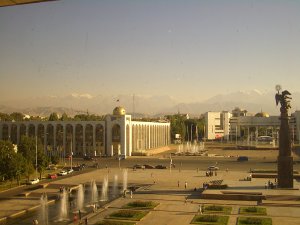 Erines Otorbaev, former deputy foreign minister for Kyrgyzstan, has been appointed Ambassador of Kyrgyzstan to Germany. The decision was endorsed by the Committee on Foreign Affairs.
Erines Otorbaev has been named as the new Ambassador to Germany for Kyrgyzstan.
Prior to this the diplomat Bolut Otunbayev was Ambassador to Germany, as well as to Sweden, San Marino, Denmark and Norway.
Otorbaev studied German language and literature at the Kyrgyzstan State University, and speaks German, Polish, Russian and English as well as Kyrgyz. He has worked for the government of Kyrgyzstan for many years in various roles prior to receiving this position. In recent years he has worked as advisor to the Office for Countries of the Commonwealth of Independent States, as head of the Department for External Relations, and as Minister for Foreign Affairs.
Germany is Kyrgyzstan's main partner in the EU and the only European country which has a fully-fledged embassy in Kyrgyzstan. German settlers have lived in Kyrgyzstan dating back to the 19th century; the first German immigrants were Mennonites, and more ethnic Germans came later as a result of forced resettlement during the Second World War, followed by another wave who immigrated when their banishment in Siberia ended. Currently an estimated 8000 native Germans still live in Kyrgyzstan, and receive support from the Kyrgyz government. This link has formed a significant aspect of bilateral relations between Germany and Kyrgyzstan.
2015 is the 20th anniversary of the establishment of diplomatic relations between the two countries, and in May of this year President Atambayev of Kyrgyzsan paid an official visit to Berlin, where he met with Chancellor Merkel and President Gauck, and made a speech about the ongoing reforms in Kyrgyzstan.
Otorbaev will be based in the Kyrgyz embassy in Berlin on Otto-Suhr-Allee 146.
References and Links
News from Berlin
Grace Eccleston, Berlin Global