News from Berlin
Erasmus Program Continues its Success as Numbers of Participants Reach Record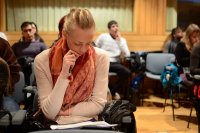 News from Berlin - According to the Grman Academic Exchange Service (DAAD),the number of German students taking part in an Erasmus exchange reached a record in 2013. Over 35,000 students took the opportunity and went to a European country to study for at least one semester. That was 2,000 more than in the year before. Also, around 4,000 members of universities including staff were either teaching or taking part in further education.
Federal Minister of Education and Research, Johanna Wanker, welcomes this development and sees the vision behind the exchange program to continue it under the new name "Erasmus +" and with more funding confirmed. "Erasmus is a European success story and an encouraging sign for the young generation in Europe. I am pleased to see an increasing amount of people having the chance to make an academic exchange beyond their national borders. An international highly skilled workforce will strengthen the competitiveness in Germany and Europe.
The Ministry emphasizes that Erasmus is not only a chance for the 3,000 students that leave Germany for European universities, but a motor for the internationalization of all European universities on their own campuses. Through this 'Internationalization at home' the students staying in their country can also gain international experience.
In Germany the most frequented universities are the TU München and LMU München as well as the University of Münster. Germans mostly go to Spain, France and the UK.
In 2013, the EU decided to expand the contracts of the Erasmus program, adding a '+' to the title and more funding as well. Around €15 billion will be available from 2015 to 2020. Berlin Global – News from Berlin