Embassy of Pakistan holds Meeting with the Board Members of the Deutsch-Pakistanisches Forum (DPF)
H.E. Amb. Jauhar Saleem urges board members to consider Pakistan diaspora and culture in Germany
July 29th, 2019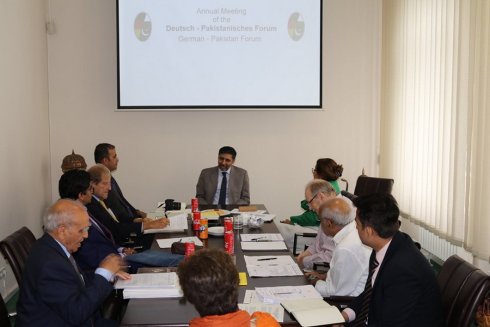 On 15th July 2019 H.E. Amb. Jauhar Saleem held a meeting with the board members of Deutsch-Pakistanisches Forum (DPF) at Embassy of Pakistan in Berlin
Pakistan and Germany established diplomatic relations in 1951 and since the founding of the German-Pakistani Forum in 1960, the two organization has helped foster cultural, educational humanitarian and socio-political ties between the two countries to mention in particular DPF's participation in the reconstruction work after the devastating floods of 2010 in Pakistan.
Germany is also one of the largest trading partners of Pakistan, which is situated at the confluence of South Asia, Central Asia and West Asia; a vital location amid transnational economic and technological cooperation with the countries of this fast growing region. 
In the recent meeting held on the 15th July 2019, the members discussed ways and means to make DPF a more vibrant organization promoting Pakistan's culture in Germany. Speaking to the members, Ambassador Jauhar Saleem urged the board members to launch an outreach campaign focusing on mobilizing Pakistani diaspora in Germany to promote Pakistan's culture.
References
News from Berlin