| | |
| --- | --- |
| | The Embassy of Austria in Berlin |
Contact
Address : Stauffenbergstraße 1; Berlin, D-10785
Tel.: + 49- (0) 30-20287-0
Fax : + 49- (0) 30-229 05 69
Email: berlin-ob@bmeia.gv.at
The Ambassador
Amb. Michael Linhart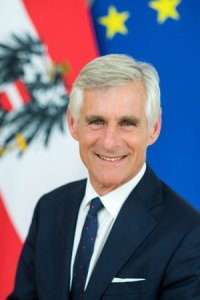 Dr. Michael Linhart has been Ambassador of the Republic of Austria to the Federal Republic of Germany since June 21, 2022.
Michael Linhart was born on August 31, 1958 in Ankara, the son of an Austrian diplomat. From 1977 to 1985, he studied law at the Universities of Vienna and Salzburg, where he received his doctorate in law in 1985. In the same year he completed the legal court practice. He joined the diplomatic service of the Republic of Austria in 1986. He completed his training phase at the Ministry of Foreign Affairs in the departments for the Organization for Security and Cooperation in Europe (OSCE), consular affairs and multilateral economic policy, as well as at the Austrian Embassy in Addis Ababa. Michael Linhart's first assignments abroad were to the Austrian Embassy in Damascus as First Attaché in 1988 and to the Austrian Embassy in Zagreb as First Attaché in 1992.
In 1995, Michael Linhart returned to Vienna and served in the cabinet of then Foreign Minister Wolfgang Schüssel. After Wolfgang Schüssel's appointment as Federal Chancellor in early 2000, he served as his foreign policy advisor in the Federal Chancellery. In the same year, Michael Linhart was appointed Austrian Ambassador to Damascus. From 2003 to 2007, Michael Linhart headed the Austrian Development Agency (ADA) of the Foreign Ministry, which was newly established by the amendment to the Development Cooperation Act. In 2007, he was again appointed Austrian Ambassador, which now took him to Athens.
In 2012, Michael Linhart took over as Head of the Section for Development Cooperation and International Development Policy at the Foreign Ministry. In December 2013, this was followed by his appointment as Secretary General for Foreign Affairs at the Foreign Ministry, a position he held until the summer of 2018 before moving to Paris as Austrian Ambassador. From October 11 to December 6, 2021, Michael Linhart was Federal Minister for European and International Affairs of the Republic of Austria.
History
The Austrian Embassy Berlin is located south of the largest and oldest city park, the Tiergarten, and forms the architectural entrance on the eastern side of the Berlin diplomatic quarter. The building was designed by the renowned Austrian architect Hans Hollein. The construction work started in 1999 and was inaugurated in 2001 in the presence of the Austrian President Thomas Klestil and the German Foreign Minister Joschka Fischer.
Austria and Germany do not only share similarities in language and culture but also centuries of shared history. Germany and Austria cooperate as neighbours in a particularly close and trusting political relationship. The good relations between the two countries is reflected in numerous political and diplomatic contacts between the two. The German-Austrian cultural and scientific exchange is also very intense.