Egyptian Minister of Tourism and Antiquities Showcases Country's Cultural Heritage at ITB Berlin
Egypt's Tourism and Antiquities Minister leads delegation to promote country's tourism industry at ITB Berlin
March 07th, 2023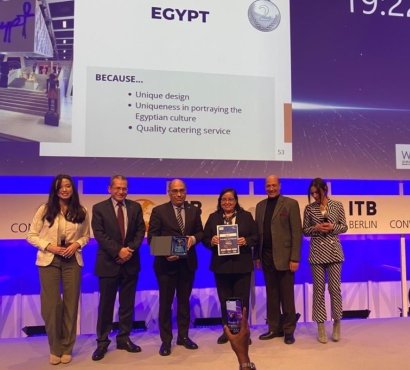 Egypt's Minister of Tourism and Antiquities, Ahmed Issa, led a delegation to Germany for the ITB Berlin, one of the world's largest travel trade fairs. The event, which took place from March 7th to 9th, 2023, gave the Minister and the delegation the chance to promote Egypt, highlighting its cultural, historical and artistical heritage. The Egyptian pavilion at the ITB Berlin tourist exchange was awarded the 2nd best pavilion in Africa for its unique design and emphasis on Egyptian culture and civilization. The event was supported by the Egyptian Embassy in Berlin.
At the ITB Berlin, the Egyptian Pavilion promoted the country's rich cultural legacy and diversified tourism options, with exhibitions highlighting Egypt's historical monuments, museums, and attractions. Visitors to the pavilion had the opportunity to learn about the country's rich history and culture through exhibitions of ancient relics, cultural performances, and interactive exhibits.
The delegation focused on Egypt's sophisticated tourist infrastructure, including its magnificent resorts and world-class services, in addition to showcasing Egypt's cultural legacy. Egypt's efforts to promote its tourist sector, including the development of new hotels and resorts and the expansion of existing ones, were highlighted by Minister Ahmed Issa.
Minister Ahmed Issa met with a number of foreign travel and tourism sector professionals at the event, discussing methods to enhance tourism to Egypt and exploring prospects for partnership. The Minister stressed the importance of tourism to Egypt's economy as well as the country's commitment to providing tourists with a safe and pleasurable experience.
Overall, the Egyptian delegation's attendance at ITB Berlin was a success, raising awareness and interest in the country's tourist business. Egypt is poised to become a major destination for tourists from all over the world, thanks to its rich cultural history, landscapes and heritage.
References
News from Berlin