| | |
| --- | --- |
| | The Embassy of the Netherlands in Berlin |
Contact
Address: Klosterstraße 50, Berlin, D-10179
Tel.:  +49 (0)30 20 95 60
Fax : +49 (0)30 20 95 64 41
E-mail: bln@minbuza.nl
The Ambassador
Amb. Ronald van Roeden
Ronald van Roeden was born on September 10th, 195. He is married and has three daughters. Van Roeden currently serves the government of the Kingdom of the Netherlands as Ambassador to the Federal Republic of Germany since 2021.
Studying geography at the University of Utrecht, then completing his doctorate at the École nationale d'administration Paris, he started out his career as Embassy Secretary in Baghdad in 1986. He contributed to Netherlands Mission OECD in Paris as Secretary in 1992, and became Head of Office Directorate General for International Cooperation in 1995.
Entering the Ministry of Foreign Affairs, von Roeden started working as Director of Human Resources in 2001. From 2006 he was Netherlands' Ambassador to Norway, then from 2009 the Europe advisor to Netherlands Prime Minister. From 2013 on, he returned to the Ministry of Foreign Affairs as Deputy General-Secretary. Finally, his most recent assignment before taking the position of Ambassador in Berlin was as Deputy Permanent Representative in the Netherlands Mission to the EU in Brussels, in 2017.
His language skills include Dutch, German, French and English.
History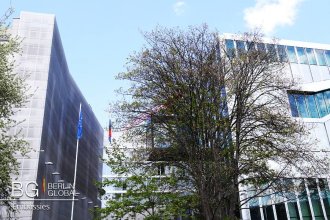 Modern relations between the Netherlands and Germany were established after the Second World War. Both states pride themselves on their relationship which is based on tolerance, peace and prosperity. As some of the original co-founders of the European Union, the Netherlands and Germany have been closely involved in the ups and downs of European issues. The two have similar views about environmental policy, development policy and the economics. However, Dutch politicians are much more reticent about the EU than their German colleagues. Germany is the main trading partner and the largest export destination for Dutch products. This is not surprising because Germany is an economic superpower.
Mission
The mission of the Dutch Embassy is to maintain the good relations between Germany and the Netherlands and to increase the mutual understanding of each other's interests.