Czech PoetryMat in Berlin
Unique Czech invention to showcase German and Czech literary heritage
August 09th, 2016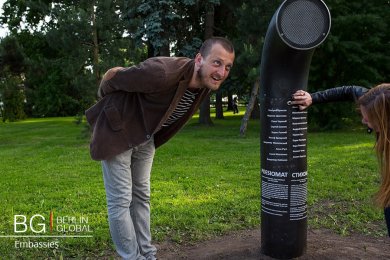 An unusual Czech sound installation has come to Berlin - the PoetryMat. The installation serves as a jukebox, but instead of music it plays poems by German and Czech poets. The poems are played from a specially designed periscope.
People in Berlin now can hear works of German and Czech poets and poetesses like Marcel Beyer, Nora Bossong, Oskar Pastior, Pavel Novotný and Kateřina Rudčenková to celebrate both Czech and German literary traditions and heritage through the specially designed PoetryMat. Moreover, at the place of the installation, listeners can exchange their books at the specially installed table.
The authors of the project, Ondřej Kobza and Michaela Hečková, came from Prague for the opening of the installation. Both were working on the project of Pianos on the streets and gave a wonderful speech about the need for the revitalization of public space in Prague and other cities.
According to the author of the whole project, the PoetryMat is not only about poetry. It is also about what an individual can add to the public space to delight people. Czech minister of culture expressed hope when he saw the installation for the first time, saying it would inspire more people to do something for the community and the public space.
The PoetryMat´s hometown is Prague, but it has been installed already in Kiev, Moscow and London and now thanks to the Czech Centre has been installed in Berlin as well, to promote Czech creativity and literary heritage.
It has been organized by Pianos on the streets, Literature Workshop Berlin, Lyrikline.org and the Czech Centre Berlin and you can find the installation in front of the Czech Centre (Mohrenstraße / Wilhelmstraße) until 9th September.
References:
News from Berlin