'Conversa Cultural'- A Cultural Discussion About Brazilian Music
The Brazilian Embassy will host a cultural discussion about Scat-Singing and Dani Gurgel's musical project
April 17th, 2019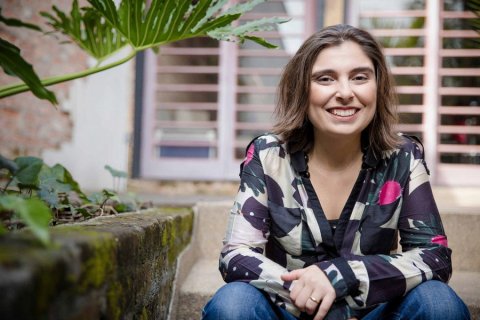 Scat singing is a form of vocal improvisation used in vocal jazz; some famous representatives of scat are Louis Armstrong, Gene Greene and Ella Fitzgerald. In her book "Brazilian scat study", Brazilian singer and music curator Dani Gurgel explored the world of scatting in Brazil. The Brazilian embassy in Berlin invited her to hold a cultural dialogue about music and her project.
This Brazilian singer and composer puts together her experience as a big band saxophone player and rock band bassist with her original music in order to build the modern and bold TUQTI, a creative meeting between Brazilian contemporary music, jazz and rock. She has already toured Japan, China and Brazil with TUQTI, and is booked for Uruguay and Chile in 2019. Germany will be the starting point of the Spring 2019 Europe tour, accompanied by Dani's Modern Jazz World Collective – a series of workshops offered and attended by some of the best jazz musicians in the world, gathered in Bremen for Jazzahead. This project and the related tour are financially aided by ProAC (São Paulo State Secretary of Culture) and the Brasil Music Exchange project. You can listen to her new album at:  https://danigurgel.bandcamp.com
During the discussion, Dani Gurgel will present her project with young musicians. She will talk about scat singing and the influence of her mother tongue on her art. The project, developed in the book "Brazilian scat study", looks at scat singing from the point of view of Brazilian music with the exploration of sound and timbre, rhythmic studies and interactive exercises. On the occasion of the release of their album TUQTI with the project "Modern Jazz World Collective" in cooperation with drummer Thiago Rabello, Dani Gurgel is touring Germany with stops in Berlin, Bremen and Hürth.
The discussion will take place on Wednesday, April 24, in the Embassy of Brazil in Berlin. It starts at 19 o'clock and the entrance is free and open for all. However, to gain entrance, send an email to cultural.berlim@itamaraty.gov.br to register and don't forget to bring your ID or passport to the event.
References:
News from Berlin