Celebrating the 48th "Spirit of the Union"
National Day of the United Arab Emirates in Berlin
December 09th, 2019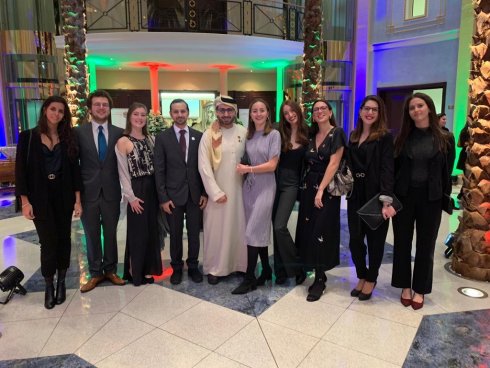 On December 2nd, some of our interns from the Institute for Cultural Diplomacy had the pleasure of being invited to the National Day of the United Arab Emirates. The celebration took place in the Embassy of the United Arab Emirates, in Berlin.
On December 2nd, people from UAE celebrate their National Day. On this day in 1971, six emirates signed a Federal Constitution and became independent from Britain. In 1972, the six emirates namely; Abu Dhabi, Dubai, Sharjah, Umm al-Quwain, Ajman, and Fujairah, were joined by the seventh, Ras Al Khaimah. Other than the adoption of their first Federal Constitution, this day also marks the adoption of the UAE flag; made of four different colors (red, black, green and white), which symbolizes Arabian unity.
In order to mark this event, huge celebrations are held across the country, thousands of events and activities are organized by individuals and institutions. For this reason, H.E. the Ambassador Ali Abdulla Al Ahmed hosted guests in the Embassy in Berlin for this occasion. The celebrations gave us a taste of the local culture, food and music. The presentation also included an introduction to the village created to host the World Expo 2020 in Dubai. The theme for the Exposition will be "Connecting Minds, Creating the Future'' .
The aspiration of the UAE government is to enhance the role of UAE in the international community. Talking about the future, in a former declaration to the Nation Shield magazine, for the occasion of the 48th National Day of the United Arab Emirates, His Highness Sheikh Mohammed bin Rashid, Vice President, Prime Minister and Sovereign of Dubai, advocated, "We will continue to offer the future for our generations to come. The occasion we celebrate today is full of a myriad of lessons we have learned from our founding fathers, who have instilled in us the ambition and willingness to cope with the changes in the world and to exploit our full potential". Moreover, 2019 was the Year of Tolerance, meaning that the government plan to achieve a further religious, racial, communal, cultural, sectarian and political tolerance within the country.
He further recalls the official brand of UAE celebrations as "The Spirit of the Union. It passes through us. The Spirit of the Union has made the word 'impossible' empty in our dictionary and, by doing so, we have transformed the results into a way of life and made progress part of our plans and actions".
References and Links
Michela Lucchesi, Giulia Russo Wälti

Berlin Global, News from Berlin