Celebrating Nigerian Culture Through Art
A Look into the Exhibition and its Significance for both the Art Scene in Nigeria and Berlin
April 03rd, 2023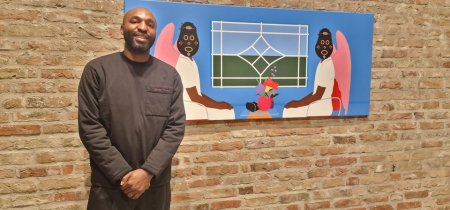 Dennis Osadebe's "Do You Know How to Pray" exhibition is a striking display of contemporary Nigerian art that showcases the country's rich cultural heritage. Through his vibrant and colorful works, Osadebe demonstrates the power of art to promote Nigerian culture, diplomacy, and cooperation, serving as a beacon for artists and art enthusiasts across the globe.
From the 20th of January to the 19th of February, the Berlin-based König Galerie opened its doors to the "Do You Know How to Pray" exhibition featuring the works of Nigerian artist Dennis Osadebe. The exhibition showcased a collection of paintings and sculptures that draw inspiration from Nigerian culture, music, and fashion. Osadebe's signature style is characterized by bold, geometric shapes and bright, contrasting colors, making his works instantly recognizable.
One of the standout pieces in the exhibition was a large-scale painting titled "Lagos Hustle," which depicts the bustling streets of Lagos, Nigeria's largest city. The painting is a celebration of the city's vibrancy and energy, capturing the essence of its people and culture. Another notable work is "Afrodisiac," a sculpture that combines elements of traditional African masks with contemporary design.
Beyond their aesthetic appeal, Osadebe's works have significant cultural and diplomatic value. They provide a platform for showcasing Nigerian culture and its contributions to the world of art, highlighting the country's rich artistic heritage. As Nigeria continues to gain recognition as a global economic and cultural powerhouse, art plays a critical role in promoting its soft power and diplomacy.
The Nigerian Embassy in Berlin promoted Dennis Osadebe' exhibition by emphasising the importance of valuing one's roots and knowing how to share them through universal and peaceful means such as art and culture.
In recent years, Nigeria's art scene has experienced significant growth, with artists like Osadebe leading the way. Through their works, Nigerian artists are promoting cultural understanding and cooperation, forging new connections and collaborations with artists from around the world.
Overall, "Do You Know How to Pray" is a powerful testament to the transformative power of art. Through his works, Dennis Osadebe showcases Nigeria's cultural richness and artistic diversity, while promoting cooperation and diplomacy on a global scale. As Nigeria's art scene continues to flourish, exhibitions like this one serve as a beacon of hope for artists and art enthusiasts alike.
References:
News from Berlin