News from Berlin
Black International Cinema Berlin: Promoting Cooperation and Understanding Through Culture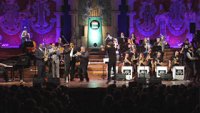 News from Berlin - From May 7th to May 11th will be organized the Black International Cinema Berlin. This year the festival is celebrating the 50th anniversary of Martin Luther King Jr. visit to Berlin.
The Black International Cinema of Berlin will be an occasion for several performances of Fountainhead Dance Theater, as well as an exhibition named 'Footprints in the Sand?' During the Festival many movies from African film director will be broadcast in order to raise many subjects such as the position of the African diaspora in Germany or the cultural perspectives for the African continent. Furthermore lectures, debates, seminars and artistic performances have been scheduled.
Black international Cinema Berlin is the product of the Black Cultural Festival, which was produced and directed by Fountainhead Dance Theater in 1986 for the first time in Europe. The goal was to present the contributions of African people to world culture through film, theater, music, dance and seminars. Since then, the Black International Cinema Berlin has been held in Berlin annually as well as in other European and US-American cities.
The event is open to all film directors and aims to promote a better cooperation and understanding between the different cultural, ethnic, religious and socio-economical backgrounds. The purpose is also to overcome prejudices and to enhance a peaceful coexistence between the African and the Occidental World.
News from Berlin – Berlin Global