Bharatanatyam – South Indian Classical Dance Performance at the Embassy of India in Berlin
Promotion of the South Indian culture through the art of dance
June 26th, 2019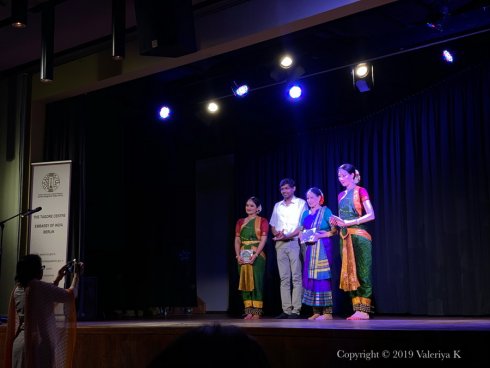 On June 25, 2019, the Indian Embassy in Berlin organized a dance show, in which Guru Saroja Vaidyanathan and her students performed Bharatanatyam – a centuries-old South Indian classical dance.
The Embassy of India in Berlin had a privilege to host a Bharatanatyam dance show with a famous Guru Saroja Vaidyanathan.
Guru Saroja Vaidyanathan has had her training as a student of the accomplished Guru Lalitha of Saraswathi Gana Nilayam, Chennai and the third generation Guru Kattumanar Muthukumaran Pillai. Dr Saroja Vaidyanathan is one of India's prominent Bharatanatyam exponents earning her fame as an intelligent dancer, guru, innovative choreographer, author and able administrator. She travelled widely both in India and abroad for recitals, lecture-demonstrations, cultural tours and workshops. She choreographed several ballets based on themes of mythological stories, women's empowerment and social issues. Furthermore, Dr Saroja Vaidyanathan authored five books, the latest being a pocket book on the Classical Dances of India for educational institutions and a research paper on aspects of dance. She released CDs on Subramania Bharathi's poems, of three Margams, on the life of Paramacharya, and a video of the basics of Bharatanatyam for educational and art institutions. For her dedication to this ancient art form, she has been conferred with numerous titles and awards by the Government of India and by various organizations and dance institutions. Dr Saroja Vaidyanathan conducted 250 Arangetrams, some of them are now professional dancers, running their own art centres.
Bharatanatyam is a major form of Indian classical dance that originated in the state of Tamil Nadu. This pre-eminent Indian classical dance form is presumably the oldest classical dance tradition of India and is regarded as mother of many other Indian classical dance forms. Bharatanatyam expressed South Indian religious themes and spiritual ideas, particularly of Shaivism, Vaishnavism and Shaktism.
According to the Hindu tradition the name of the dance form was derived by joining two words, 'Bharata' and Natyam', in which 'Natyam in Sanskrit means dance, and 'Bharata' is a mnemonic comprising 'bha', 'ra' and 'ta', which respectively means 'bhava' that is emotion and feelings; 'raga' that is melody; and 'tala' that is rhythm. Thus, traditionally the word refers to a dance form where bhava, raga and tala are expressed.
Bharatanatyam is accompanied by music and conducted by the guru. The dance combines artistic expression with a sense of spirituality; Bharatanatyam dancers are noted for performing with legs bent or knees flexed out combined with spectacular footwork, precise hand gestures, and vivid facial expressions. This South Indian dance has traditionally been a form of an interpretive narration of mythical legends and spiritual ideas from the Hindu texts. The performance repertoire of Bharatanatyam, like other classical dances, includes nrita (pure dance), nritya (solo expressive dance) and natya (group dramatic dance).
References
News from Berlin