| | |
| --- | --- |
| | The Foreign Ministry of Bahrain |
Shaikh Khalid bin Ahmed bin Mohammed al Khalifa
Minister of Foreign Affairs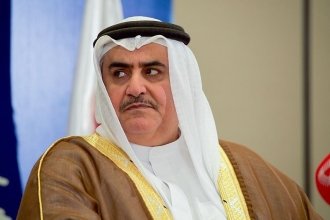 Birthdate: 24 April 1960.
Birthplace: Kingdom of Bahrain.
Academic Qualifications:
Received his Primary and Intermediate education at West Rifaa´s Boys School, and his Secondary education from the Islamic Scientific College in Amman, Jordan, in 1978.
In 1984, he completed his B.Sc. in History and Political Sciences from St. Edward´s University, Texas, in the United States.
During his studies, he participated as a volunteer in many election campaigns in the United States including the Jimmy Carter´s 1980 Presidential campaign.
Languages:
Arabic
English
Spanish
Portuguese
Hobbies:
Reading about history, politics, social affairs and travel literature
Travelling around the world
Work experience:
Appointed as the Minister of Foreign Affairs on September 26, 2005.
On March 1st, 1985, he joined the Ministry of Foreign Affairs, at the rank of Third Secretary.
Between August 1985 and November 1994, he joined Bahrain´s Embassy in Washington, D.C., where he was in charge of the Political, Congressional and Media affairs.
From June 1995- till August 2000, he worked as a Chief Liasion Officer at the Office of the Deputy Prime Minister, Minister of Foreign Affairs; responsible for the Maritime Delamination and Territorial Dispute between Bahrain and Qatar, in addition to other tasks.
In August 2000, he occupied the position of the Director of Public Relations and Information, at the Court of the HRH the Crown Prince.
Attended and participated in several conferences, summits and international meetings as a member of the delegation accompanying HRH the Crown Prince and the Deputy Prime Minister of Foreign Affairs; as well as many other official visits worldwide.
On the 13th September 2001, he was appointed as Ambassador Extraordinary and Plenipotentiary of the Kingdom of Bahrain to:
The Court of St. James (the United Kingdom),
Kingdom of the Netherlands on 20th March 2002,
Republic of Ireland in the 3rd of May,
Kingdom of Norway on 29th of May 2002,
Kingdom of Sweden on 13th of November 2003.
He is chairman of the Committee on the Implementation of the Riyadh Agreement and a member of the Supreme Defense Council and the Ministerial Committee on Social Services, Media, Transportation Sector, and Communication Affairs. He is also a member of the ministerial committee to follow up labor issues, as well as on board of trustees of the Isa Award for Service to Humanity.