Ashgabat 2017: The Pearl of Central Asia as a World Sports Hub
The 5th Asian Indoor and Martial Art Games to be Held in Ashgabat in 2017
August 18th, 2016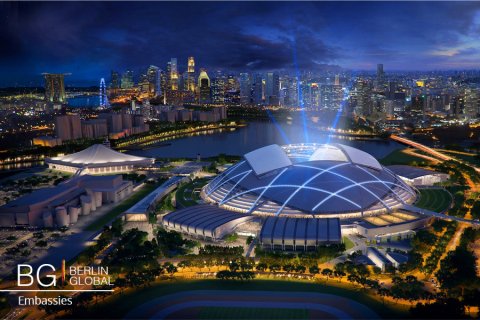 The 5th Asian Indoor and Martial Art Games will be held in the city of Ashgabat, the 'pearl of Central Asia' in 2017. For the first time, guests from 62 countries, including 45 in Asia and 17 in the Pacific, will be received. The games will contribute greatly to the growth of international sports, the prestige of Turkmenistan and will increase the popularity of different kinds of sport in Turkmenistan.
The foundation for the Olympic Village was laid in the capital of Turkmenistan on 5th November 2010. The V Asian Games will be held here in 2017. The largest in the region Olympic Village will be located on an area of 157 hectares. The complex includes over 30 different facilities, including social-living, transportation and other infrastructures.
The participation of the countries of Oceania in the 2017 V Asian Indoor and Martial Arts Games was officially confirmed in Ashgabat in November 2014. At this ceremony, the President of Turkmenistan proposed to expand the preexisting program of 19 sports by adding two more: Turkmen national wrestling (goresh) and horseback riding (konkur). This proposal was approved by the Olympic Council of Asia.
Under the instruction of the President of Turkmenistan, the Executive Committee for the Preparation of the V Asian Games held a contest entitled "Sport - the pursuit of excellence", hosted together with the Union of Industrialists and Entrepreneurs of Turkmenistan and the Central Council of the Youth Organization of Turkmenistan
The competition was organized in order to increase the popularity of sport amongst young people, to increase support for mass sports and fitness movements in the country, and to work on patriotic education. The concept of this campaign was to promote the ideas of peace and humanism in contemporary society, to promote the principles of friendship and brotherhood, and to unify and consolidate the role of sport.
The motto of the V Asian Indoor and Martial Arts Games has been selected and approved by the President of Turkmenistan, Gurbanguly Berdimuhamedov: "Health. Inspiration. Friendship". It was proposed by Kumush Allabaeva, a teacher in the languages department of Turkmen State Institute of Architecture and Construction. The motto aims to reflect the inner feelings of the Turkmen people, their peacefulness, their devotion to sport and their love of their independent and neutral fatherland.
Turkmenistan is the first country in Central Asia to host the 2017 Asian Indoor and Martial Arts Games. It will bring unique knowledge, skills and experiences, as well as encouraging the development of patriotic feelings and engaging young generations in sports and volunteer movements.
Reference:
News from Berlin