Armenian Ambassador to Germany Meet with Brandenburg's Prime Minister
An Official Meeting Focused on the Prospect of Cooperation between Armenia and Brandenburg
August 13th, 2015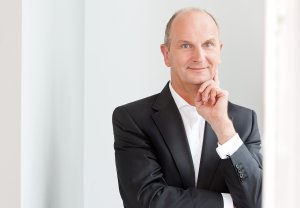 The Armenian Ambassador to Germany, Ashot Smbatyan, met with the Federal State of Brandenburg's Prime Minister, Dietmar Woidke, in Potsdam on August 8th. Their discussion was aimed at underlining the importance of collaboration between Brandenburg and Armenia, mainly in the education, culture, science and agriculture sectors. The potential of cooperation between the observatories in Potsdam and Byurakan was also high on the agenda.
As stated by the Department of Press, Information and Public Relations of the Ministry of Foreign Affairs of Armenia, Brandenburg's Prime Minister, Dietmar Woidke, warmly welcomed HE Ambassador Smbatyan, and highlighted what an honor it was to be paid a visit by the Ambassador of a country with such a broad Christian culture. Ambassador Smbatyan went on to express his thanks for the warm reception, and emphasized that Brandenburg plays an important role for Armenians, as the House-Museum of Johannes Lepsius, the great philanthropist and friend of the Armenian people, is located in Potsdam. Indeed, Johannes Lepsius, who lived between 1858 and 1926, was a German humanist who was particularly interested in trying to prevent the Armenian Genocide in the Ottoman Empire. He is mainly praised for the fact that during World War I he published the work "Bericht über die Lage des armenischen Volkes in der Türkei" ("Report on the situation of the Armenian People in Turkey") in which he closely documented and condemned the Armenian Genocide.
During the meeting, the parties made reference to plans of future cooperation between Armenia and Brandenburg. Special attention was aimed at certain fields, such as agriculture, education, science and culture.
Last but not least, the potential for cooperation between the astrophysical observatories in Potsdam and Byurakan was particularly highlighted.
References and Links
News from Berlin
Andreea Botoş, Berlin Global