News from Berlin
Anime Event Japan Embassy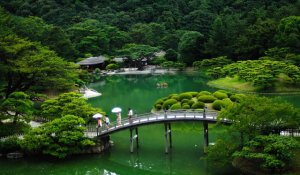 News from Berlin - On Monday, May 19th the Japanese Embassy in Berlin hosted an Anime Evening, screening for the first time in Germany the 2012 Japanese animated movie « Wolf Children Ame&Yuki » directed and co-written by Mamoru Hosoda.
Quoting on Anime master Miyazaki's style, 'Wolf Children' follows a young woman falling in love with a werewolf, and then left to raise their two werewolf children after his death. Hosoda's social fairytale movie invites therefore the audience to engage in a moral reflexion on society, integration and tolerance.
'Wolf Children' gives an insight into the specific genre of Culturalanime, using the aesthetic medium of the Japanese classical anime movie to engage reflexions on broader social issues. The movie thus take its viewers on a both aesthetic pleasant and morally challenging journey.
Accordingly, this movie brilliantly opened the Japanese Embassy's new Cultural project in Germany. Lead in cooperation with the German-Japanese group 'AV Visionen GmbH' and their Home-Entertainment Label 'Kazè', the project is aimed at promoting the until now barely know Culturalanime genre to the German audience.
For more informations on the events organized by the Japanese Embassy in Berlin, please have a look at http://www.de.emb-japan.go.jp
News from Berlin - Berlin Global.