News from Berlin
Angela Merkel Keeps Open the "Lines of Communication" with Putin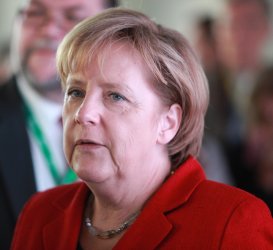 News from Berlin – German Chancellor, Angela Merkel, yesterday exercised caution over German-Russian relations following the recent actions of Russian President, Vladimir Putin, in the ex-Soviet state of Ukraine.
Merkel made clear the continuation of her support for the consensus of EU member states – that the annexation of the Crimean peninsula from Ukraine was a violation of international law – yet she told the Sächsische Zeitung newspaper of the need to keep open the "lines of communication" with Russia.
Her comments should come as no surprise to those familiar the rhetoric she espouses to promote peaceful interstate relations and her consistent respect for the territorial integrity and sovereignty of every European state, Ukraine in particular.
One may speculate that an element of her encouragement arises from state self-interest, with German-Russian trade relations last year generating nearly 90 billion euros of German profit. Yet, with Germany being the top economic power in the EU, the largest provider of total contributions to the EU budget, and with Merkel's willingness to diplomatically front the EU's challenge against Russia and demand more action from Putin, it is clear these allegations can be significantly diluted.
The German Chancellor's comments should be a leading example of the sensitivity in which state leaders must conduct their foreign policy. State introversion towards Russia could also leave Ukraine in the dark. Accordingly, Germany will continue to encourage and be actively involved in open dialogue with Russia.
The leaders of every European state should heed Angela Merkel's cautionary guidance and take comparable action; this would be in the best interests of Europe and the EU. Further, it would promote the ideas necessary for strengthening harmonious relations between states worldwide.
News from Berlin – Berlin Global.